- Hamilton's #1 Metal Pickup Service -


Howdy, Here's How It Works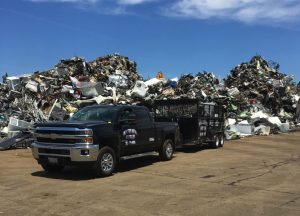 Step 1: Give us a call and let us know what items you have for free pickup and where you are located. We cover most of Hamilton. We do not have service to outlying areas of Hamilton including Burlington, Binbrook, Flamborough, Grimsby, etc. If unsure please give us a call.
Step 2: Arrange a pick-up time and we'll let you know when we come by your area of the city and pick up your scrap metal items free. 
Items We Commonly Pickup
Appliances
Electronics
Metal Bars
Building Material
Mechanical Parts
BBQ's
Snowblowers/Lawnmowers
Copper/Brass/Aluminum/Zinc, etc.
Air Conditioners/Furnaces
Scrap Cars/Trucks/Equipment 
And much more!
Anything we can in our trailer!
Step 3: Place Your Items Outside: We're happy to pickup your scrap metal for free. All we ask is that the items are at the side of the house or business, in front of the garage door, or at the loading dock when we come out for a pickup.
We will pick up appliances, electronics, furnaces, air conditioners, snowblowers, lawnmowers, renovation scrap, scrap cars, car parts, trucks, exercise or other equipment, copper, brass, aluminum, zinc, and much more!
Step 4: Say Goodbye To Your Scrap Metal & Appliances 🙂 Your metal will be gone for good and recycled for future use. Keep our info and let us know if you find yourself stuck with some scrap metal again.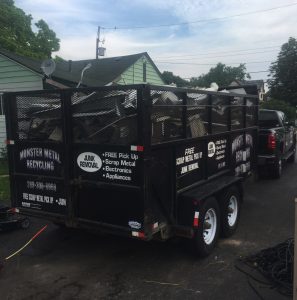 ***NOTE: Please make sure all scrap metal items for pickup are placed outside or in your garage. It's best to leave items at the side of your house or near the front of your garage on your driveway so they are still there when we show up 🙂 ***
- Looking For More Info ? -


Here's A Bit More About Us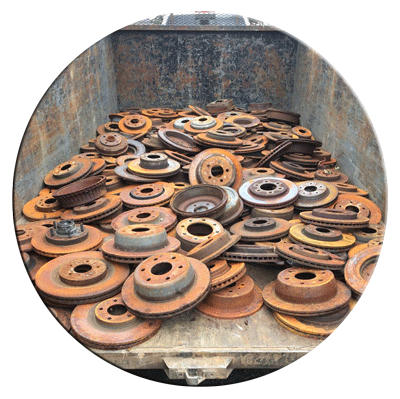 Monster Metal's story starts back in 2014 when our hobby-turned-business was registered to offer a professional insured company to provide a free pickup service to home and business owners with metal waste of any kind that would otherwise be "put to the curb" in the hopes it would just disappear.
Monster Metal continues to provide a service with a passion for recycling, to break away from the negative archaic "scrapper" stereotype, and to fill a void that bridges a gap between a problem and a solution, that otherwise has not been provided at an organized customer based level that is also free. C'mon what is still really free these days??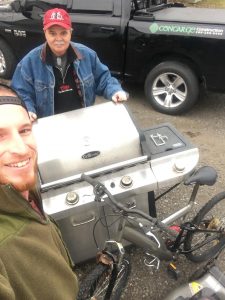 "I recently called Monster Metal to see if they could come and pick up a number of items including a bbq, a couple old lawn mowers, and some assorted scrap metal. The truck arrived approximately an hour and a half after I placed the call and returned later the same day when I realized I had a bit more scrap needing removal. I can't say enough about this company and highly recommend them should you have a need for their services."
Tom M, Hamilton - 5 Star Review
"Today I had the pleasure of meeting the owner of Monster Metal Recycling. I say a pleasure because Corey has a professional manner and work ethic. He is efficient and ensures that the collection site is left clean and tidy... he is conscientious enough to park his vehicle and trailer to allow local traffic to utilize route ways without inconvenience. No fuss and no worry using this wonderfully sustainable service."
C. Davies - 5 Star Review
"Thank you very much for your quick service! Our washer and dryer was sitting outside and I required assistance to remove it. The man power I needed was not available at the other companies I called for a reasonable place

I took a chance and called Monster Metal Recycling and they came without even a second thought. Corey is so very kind and very friendly.  I truly appreciate and admire those that provide great customer service as that has become a lost trait for many.

I even offered to pay for the service but Corey was adamant that free pick up was exactly that. I will definitely never forget your business and will be proud to share your details amongst my neighbourhood, family, and friends."
Joanne G - 5 Star Review
A few days ago, I called Monster Metal Recycling to find out if they could pick up some scrap metal. The next day a young man named Corey showed up at my driveway exactly at noon as he promised.

He picked up everything in no time and was very professional, polite and friendly. Corey provides that great, old fashion way customer service so hard to find these days. I highly recommend Monster Metal to anyone looking for a FREE pick up of recyclable metal.

Corey: doing business with you was just a pure pleasure, thanks so much!
Raymon - 5 Star Review
Hours
Monday: 8:00am - 7:00pm
Tuesday: 8:00am - 7:00pm
Wednesday: 8:00am - 7:00pm
Thursday: 8:00am - 7:00pm
Friday: 8:00am - 7:00pm
Saturday: 8:00am - 7:00pm
Sunday: Relaxing